trowa's gundam fan site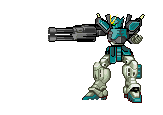 Welcome to my trowa site!
this is dedicated to the coolest pilot around
I'm new to website designing and thought that I'd start by building a shrine to who I think is hte best piolit in the series.
At this site you'll find Trowa info, mecha on his kick ass gundam "heavyarms", stuff on his sister Catherine and some and some trowa and duo pics in the gallery section. Also you can e-mail me and tell me what you think of the site(please if you're going to complain keep it short)
trowa: "I cant let anyone who see my gundam live. That is my duty"
<ISML TYPE=counter OPTION=graphic_odometer>
My name is Trowa Barton.

I was adopted by *neil*.

Even though I wear a clown suit,

I am no one's fool.

Anyone who brings harm

to *his* website

shall not live to tell about it...

Adopted at Dragon Tears

<CENTER>
<A HREF="http://www.thecelebritycafe.com/index.html"><IMG SRC="http://www.thecelebritycafe.com/graphics/tcc.jpg" ALT="Click Here to go to The Celebrity Cafe" BORDER=0 HEIGHT=40 WIDTH=400></A></CENTER>
<CENTER><A HREF="http://www.thecelebritycafe.com/index.html">Click here to go to
the Celebrity Cafe<BR>
Interviews with your favorite celebrities, search engine,<BR>
top 20 lists, quotes, mailing lists, and more...</A></CENTER>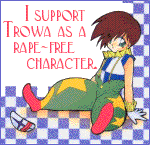 alot of my images(nearly all) came from this site so i would appreciate it if you gave it a vist cause i think its the best gundam site on the net
http://www.epy0n.com
gundam wing is copyright 1995 sotsu agency/bandai